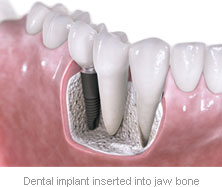 A dental implant is a titanium post that is inserted into the jaw bone, on which a crown can then be constructed to replace a missing tooth. Implants are a very effective way of replacing teeth, being free standing and not requiring other teeth to support them.
In the past, four to six months of healing was required for the implant to fuse to bone, before a porcelain crown could be attached to it. With today's newest technologies however, some implants can have a crown placed immediately.
Latest research shows that after ten years the success of implants is approximately 90%. But the porcelain crown may have to be reviewed for replacement.
Some minor surgery is required to place a dental implant in healthy bone, with postoperative pain being no worse than that of a tooth extraction. In fact, in many cases pain subsides within 24 hours of implant insertion.

Single Tooth Implants
Single tooth dental implants can be used to replace one missing tooth, acting as a new tooth root to support a crown. A laboratory milled abutment is screwed into the implant posts, acting as the 'stump' that holds the crown.
Fixed Implant Bridges
Implant-supported fixed bridges are similar to having a new set of teeth installed. Able to be inserted into either the upper or lower jaw, an implant-supported fixed bridge is not removable, and thus is easier to maintain. Dental implant supported bridges are an attractive prosthetic solution, similar to having a new set of teeth. They feel natural, and enable patients to speak more easily in comparison to dentures. And because they're fixed in place, there's no chance of losing them!
Implant Retained Dentures
Implants can also be utilised to retain dentures. Once the titanium 'screw' is fully integrated with the jaw bone, the implant can then be used to support an attachment for a denture.
A minimum of two implants can be used to maintain a lower denture, and four for upper implant retained dentures. Although the dentures that fit over implants are considerably more expensive than standard dentures, they offer the added advantage of allowing upper dentures to be built in the shape of an arch instead of having to cover the entire palate.
The addition of two implants in the front of the lower jaw can make it possible to wear a lower denture which would otherwise be impossible for the patient to wear.
Socket Preservation
Used after tooth extraction, socket preservation is a procedure used to preserve the jaw bone in order to provide a good foundation for restorations. Material is placed in the socket of an extracted tooth, to help keep the jaw bone in its original shape.
The socket preservation procedure prevents immediate bone resorption after extraction, for a successful and natural-looking appearance.
Computer Guided Implant Surgery
Using CT scans, this technique allows a very detailed assessment of your mouth in 3D, which allows implants to be placed with a level of precision that was unattainable several years ago. Computer guided implant surgery also allows surgical procedures to be accomplished in a much more conservative procedure, for greatly reduced discomfort, less treatment time and a more accurate final outcome.